A WEDDING IS A DAY...A MARRIAGE IS A LIFETIME!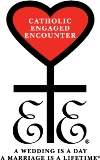 Please note, not every retreat is able to guarantee the full presence of a priest for the entire weekend. In Joliet CEE we do attend the Holy Mass with a Catholic priest on Sunday.
About Us
We are a community of couples concerned about the sanctity of marriage in today's society. Every couple shares their time, talent and treasure to run weekend retreats preparing engaged couples for a sacramental marriage. Some of us give the presentations at the weekends, while others help behind the scenes. We need couples to prepare supplies, set up the retreat center for the weekend, greet and check-in couples as they arrive on Saturday morning, clean up after the weekend, and to support and pray for the couples attending our weekends.
About Our Weekends
It is a weekend away, with other engaged couples, which allows plenty of private time to plan your MARRIAGE, not your wedding day. It is designed to give you the opportunity to talk honestly and intensively for 32 hours about your prospective life together—your strengths and weaknesses, desires, ambitions, goals, attitudes about money, sex, children, family, your role in the Church and in society—in an environment free from the pressures and distractions of the outside world. View this testimonial video to see what couples are saying.
Upcoming retreat dates
2023 retreat registration now open
January 7-8, 2023 (2 day IN-PERSON)-cancelled
March 18-19, 2023 (2 day IN-PERSON)
April 29-30, 2023 (2 day IN-PERSON)
September 9-10, 2023 (2 day IN-PERSON)
November 11-12, 2023 (2 day IN-PERSON)
If these dates do not work for you, the next closest CEE community is Milwaukee, Wi. Click here.